Marilyn Monroe Wine Clubs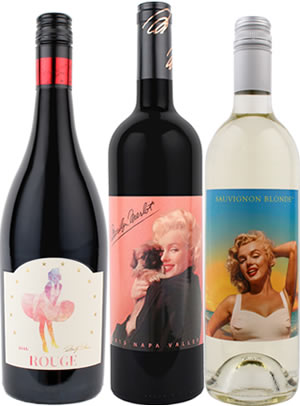 For your continuous enjoyment of Marilyn Monroe wines, you may choose to join ICON Club for 6 bottles of wine to be shipped in April and October or LEGEND Club for 12 bottles to be shipped in April and October. We carefully select the newest releases to be included in each shipment (Sorry, no substitutions).

Enjoy exceptional wines delivered conveniently and automatically to your doorstep. Shipments may include a selection of our award-winning Chardonnay, Rouge, Rose, Merlots, Cabernet Sauvignon, Meritage, Blonde de Noirs.

There is no membership fee, and members can cancel after their second shipment and 14 days prior to the next shipment by simply contacting us at 707-963-8406. You may also email our Marilyn Monroe Wine Club Manager
Membership Benefits:
Members save 15% off the retail price per wine club shipment. Plus, members will receive the same discount (15%) on all Marilyn Monroe wines purchased online at www.marilynwines.com or by phone at 707-963-8406
Sometimes a surprise wine will be included in the LEGEND Club.

Wine Club Newsletters with tasting notes and vineyard news will be emailed to you.
JOIN OUR MARILYN MONROE WINE CLUB TODAY!

Please remember that it is your obligation to notify us of any address changes before wines are shipped. We cannot be responsible for return shipping charges that are incurred by inaccurate addresses. When the alcoholic beverages are delivered, the person receiving the delivery will be required to show identification proving that he or she is at least 21 years old. For quality assurance, shipping companies will not leave wine on doorsteps and/or porches. You will receive a tracking number to your email address. If you're having the wine shipped, please use a business address as your shipping address if possible to avoid possible delays in receiving your wine.